About Chemical Peels

@headingTag>
Our chemical peel at Hsu Plastic Surgery in Beverly Hills, CA is a topical chemical solution (medium depth) that is safe for all skin types. Beverly Hills, CA board-certifed plastic surgeon, Dr. Charles Hsu, will analyze your skin to provide you with just the right strength to achieve your aesthetic goals. Our medium-depth chemical peels (where the pH of the peel is between 1.3 – 1.4, and no more than 13% acid) are a wonderful anti-aging and preventative treatment for your face, neck, chest, and/or hand skin. This treatment is great for men and women, but it is not recommended for women who are pregnant or nursing, or patients with lupus.
If you have rosacea, acne, scarring, hyperpigmentation, hormone induced melasma, and wrinkles, you may be a good candidate for this topical chemical solution to blister the top layer of your skin so that it peels away to promote new skin regeneration. We recommend getting a chemical peel every month for 3 months to combat those specific problems. If you need a skin rejuvenation treatment to promote healthy skin growth for younger-looking skin, you can safely treat your facial skin with a chemical peel every 3 months for anti-aging prevention at Hsu Plastic Surgery. Call today.
Our Chemical Peel

@headingTag>
Our office offers a medium-depth chemical peel to the superficial papillary dermis. This peel goes deeper than a light peel and therefore, provides more dramatic results. You can expect a longer peeling period, and should plan to be homebound since the face can be swollen, itchy, and red for about 10 days following the treatment.
Our chemical peels' main ingredients are:
Glutathione
Kojic acid
TCA
Phenol
Salicylic acid
Vitamin C
Retinoic acid
Reviews
"I had seen Dr. Hsu a few years ago, when he was relatively new in Beverly Hills. Even though I had a Groupon cupon he took excellent care of me. I returned today after a few years of hiatus, and was a little woried, that now, that he is more established he probably won't be as engaging as he was before. I was TOTALLY wrong. His demeanor, bedisde manner are the same as they were before; he is very friendly, patiently answers all your questions, explains all the pros and cons of various options, and spends all the time you need with you.Fabulous professional."
- J.M. /
Yelp /
Apr 05, 2017
"I had work done on my eyes by Dr. Hsu, he did a wonderful job I am very pleased with his work. I advise anyone who would like to get cosmetic surgery go to Dr. Hsu you will be very pleased. Thank you, Wanda Williams"
- W.W. /
Yelp /
May 06, 2015
"I came here for Microneedling with PRP. The procedure was done by Mimi who is amazing at what she does. She's super friendly, helpful, and knowledgeable about the procedure. She was patient with me and took the time to explain the whole process and answered all of my questions. She made me feel comfortable and less anxious about having multiple needles digging into my face. The office itself is nice and clean. The receptionist was friendly and helpful.I have noticed a definite improvement in my face. My pores look tighter and my skin looks brighter. I can't wait to come back to have another one done by Mimi!"
- C.S. /
Yelp /
Mar 31, 2017
"I highly recommend Nurse Practitioner Mimi. I had initially picked this office from the reviews that recommended her for the PRP with micro needling and I was so pleased with the experience and the results that I decided to return today for botox injections. Mimi is extremely gentle and knowledgeable. She took the time to evaluate my needs and explained how she could help me meet my aesthetic goals without trying to "sell" me on unneeded treatments. Mimi is fantastic!!! Additionally, the office is beautiful and has a modern yet warm and serene environment with an extremely professional and kind receptionist."
- J.M. /
Yelp /
Mar 03, 2017
"Nurse practitioner Mimi was very professional,friendly and knowledgeable. She made me feel very comfortable and answered all my questions. Love the results of my PRP micro-needling procedure."
- V.P. /
Yelp /
Jan 19, 2017
Previous
Next
Prime + Glow Program

@headingTag>
We are excited to offer our Prime + Glow signature wrinkle prevention program to prevent the appearance of fine lines and wrinkles using a combination of our medium-depth chemical peel alongside preventative injections of BOTOX®. We have 3 different packages to meet the needs of our younger patients. We will prime your skin with a lighter dosage of BOTOX to ward off the start of fine lines and wrinkles, and then apply our signature chemical peel designed to brighten up your skin.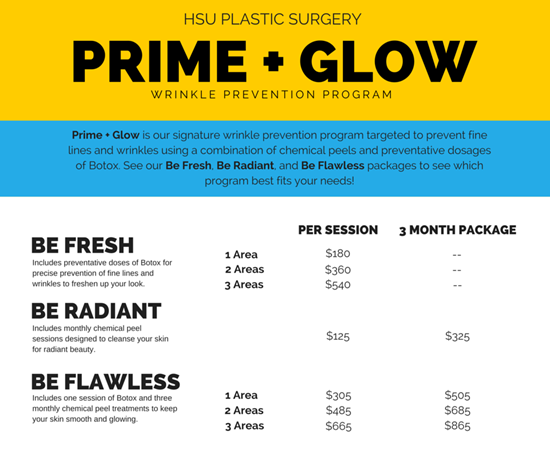 What to Expect

@headingTag>
Before we start the treatment, we will cleanse the skin with acetone. Then, the chemical solution will be applied to the face with a small square of gauze. Our chemical peel takes just a few minutes in our office with 5 – 7 firm passes with the peel over your face. A soothing ointment will be applied to the skin after the peel application. You will not need to wash your face that night. The morning after, we ask that you wash your face with the provided towelette for best results.
In the days that follow, your treated skin will begin to naturally peel. Please resist the urge to pick or pull your skin to avoid scarring. Also, stay out of the sun, and keep your skin protected from the sun's harmful rays.
Schedule a Skin Consult Today!

@headingTag>
We want you to have gorgeously bright, smooth skin with our medium-depth chemical peels at Hsu Plastic Surgery. Come in for a consultation with our board-certified plastic surgeon, Dr. Charles Hsu, and he will choose the right treatment based on your anti-aging skincare needs. We invite you to call our office today to schedule your appointment in Beverly Hills, CA.